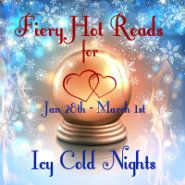 Heidi at
Rainy Day Ramblings
is hosting the Fiery Hot Reads for Icy Cold Nights Blog Hop this year and today is my turn to to giveaway a Fiery Hot Read. Well technically, my book isn't all that Fiery, but it will keep you warm on a cold night, it kept me up reading all night. So stoke the fire and grab a glass of wine (pick your poison, I'll have some tea) and curl up for a great book!
This is international as long as Book Depository ships to your country! So what book is it????
Just fill out the RaffleCopter form below!
a Rafflecopter giveaway
Don't forget to check out the other giveaways! The schedule for
Fire and Ice
blog hop!
Happy Hopping!