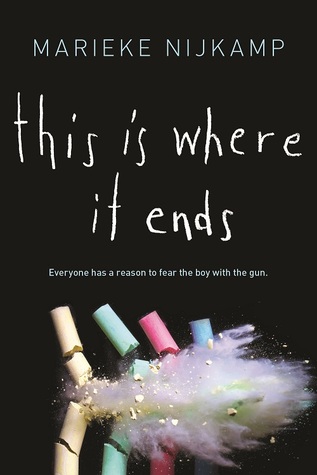 This is Where it Ends by Marieke Nijkamp
Available January 5th
So, if you haven't heard anything about this one be warned, it is not an easy read. It's a very intimate story of a school massacre, it is not a shooting. There are several narrators in the story and each one added something complex and valuable to the story except one, Claire. Every time I read her narrative she took me out of the story so that I ended up skipping her parts eventually. They added nothing to the story to me and actually made me think of her as a very self absorbed person.
I enjoyed the different perspectives. It kept the story interesting although honestly I don't know how you couldn't be interested in this story once you commit to reading about something like this. It's a hard decision to make. I have kids in school and I am a substitute teacher. There is an elementary school next door to me. This stuff scares the shit out of me. But I can't pretend it doesn't happen. So I took a chance on this one. And I think I picked the right book to take a chance on. It took me five hours to read this book without stopping for a sip of water or dinner or even to go to the bathroom. It was that good. The author does a great job of putting you right in that auditorium, but more importantly, in the heads of the narrators and what they are feeling. (except Claire, I just didn't connect with her).
The writing isn't cluttered by too many messy emotions. There are a few story lines going on but they don't tangle the main thread, there is a shooter in the auditorium, the entire school is in there and the doors are chained from the outside. Flashbacks show us what has happened to the various narrators to form their relationships and how they are connected to the shooter. There isn't a lot of focus on the aftermath or healing. This is strictly the terror of being in that auditorium, of being hunted down by the shooter. If you want police tactics and psychology and all that, this is not the book for you.
*****Spoilers below this line*****
Now, a little more on Claire, she can't take a certain car because she can't deal with the fact of who used to own that car. So instead of taking the car to call for help she and a fellow runner take off running down the road to the nearest gas station. (Drama Queen) Claire gets a boyfriend during all of this while she is waiting to see if her brother is dead or alive. Just don't feel like that's appropriate during this situation. Claire also dated the shooter but broke up with him when he assaulted another girl at prom. Ding, ding, ding. She also knew he was getting beaten by his father. And then he quit school right after the prom. HELLO?????? Can you connect the dots? He quit school as a junior. They dated two years and she didn't think there might be something wrong??? This is where I think maybe some self reflection should have come in and she might have said, "Oh, maybe that out of character assault and the abuse and his sudden quitting of school are all connected." People always say there were no signs, there were signs. This part irks me, there were signs.
I will say that I read the e-galley and perhaps a few details have been cleaned up since then. I certainly hope so because Claire just doesn't stand up to the rest of the characters or the rest of the book. It is a finely written book and one that I would highly recommend on this subject. Just skip the Claire parts.