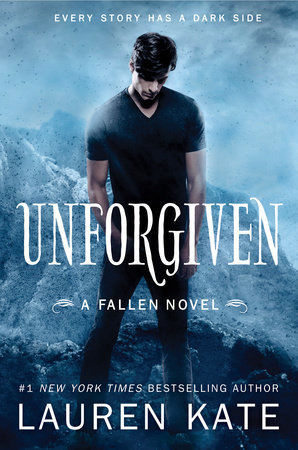 Unforgiven by Lauren Kate
A Fallen Novel
Available Now
Let's just start with the fact that I cut my YA teeth on Fallen by Lauren Kate. I was a newbie to this genre and I was browsing the very lean shelves when I saw that gorgeous cover of Luce. How could I pass that up? I was so tired of reading the same tired mysteries and I wasn't interested in other adult genres or Oprah's latest pick. I devoured that book and fell for the storyline instantly. But almost six years later.....it is a newbie story to my tastes now. I will always have a special place in my heart for Daniel and Luce's story, but let's face it, I didn't even read the last book, just the last few pages to see if I got my HEA.
Cam was never ever a factor for me but I was hoping to recapture some of that newbie magic. It didn't happen. Lauren Kate doesn't seem to have developed much as a writer from Daniel and Luce's story. Maybe she intended it to be very much like their story. The story though is weak and sappy. Bad boy Cam is so against his nature in this book, it's really hard to buy. And then, there is my biggest problem ***spoiler alert**** a rumor is spread that Cam's last girlfriend killed herself when she and Cam broke up. The kids at school and Lucille, the girl he is trying to win over, all shun him and blame him for this. This is an extreme no-no in my opinion. NEVER, EVER should a writer use this tactic to shun a character. If you have read my reviews in the past you know I get upset about the way mental illness is shown in books, but in YA? It's the worst! To blame someone for another person taking their life because they broke up? It wasn't a case of bullying or something like that. It was heartbreak and I don't believe we should start blaming people who become depressed and commit suicide.**** End of spoiler.
So, yes, I had a huge problem with that part of the book. However, Kate shows that appearance doesn't matter when it comes to love in the same book. Lucille never notices changes in Cam's appearance that others are grossed out by. So on one hand she's teaching the lesson that love is more than looks but on the other that it's okay to blame another person when a couple breaks up and one who needs help doesn't get it and commits suicide. There's a lot more to who it is that commits suicide but suffice it to say that this will not be on a favorite or even on my keep shelf.
Authors, please, I beg you, think about what you write. No you don't have to teach a lesson in your book but every time you perpetuate a misrepresentation or a lie about mental illness, you are contributing to the problem. And it sticks with your young and old readers. Stop it please! If you can't find something better to use than a tired misconception than blame the boyfriend for a girl's suicide then you need to go back to the well.
I gave this two stars on Goodreads. It is okay. But not really. I finished it because it was a mindless read for me and I could get through it. I did not have to think at all reading this it. Usually I want to be carried to another world when I read but this one didn't take me anywhere but out of my reluctance to write a review because I was so riled about the spoiler thing I wrote about. I think Lauren Kate is an okay writer, much better than this book.
I really don't recommend this one. If you are a die hard fan of Cam, you won't see him in this book. If you really must read it, go ahead. I don't have a rating bar for this one. So I'm leaving it off.